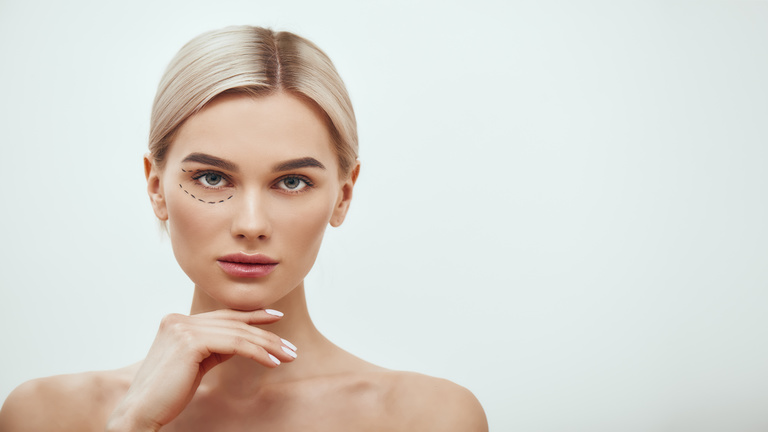 Eyelid surgery, also known as blepharoplasty, is an outpatient procedure performed under local or twilight anesthesia. It involves removing and repositioning excess skin and fat from the areas around your eyes to give your face a more youthful appearance.
The eyes are the window to the soul. The eyelids are the window to how tired or energized you look. Excess skin, fat, and bags around the eyelids can make you look lethargic, angry, and aged. They can also obstruct your peripheral vision.
At the Center for Plastic Surgery at Castle Rock, our double-board-certified facial plastic surgeon Dr. David J. Archibald has decades of experience and the highly specialized training necessary to deliver the results you want. This blog breaks down the eyelid surgery procedure he'll use to help restore a vigorous, youthful appearance to your face.
Types of Eyelid Surgery
Depending on your needs and goals, Dr. Archibald may suggest one or both of the following procedures during your eyelid surgery consultation:
Upper eyelid surgery
Lower eyelid surgery
Although the procedures differ slightly, they have similar aims: to give your face a refreshed look and make your eyes shine with youthful vitality.
Upper and lower eyelid surgeries can be performed individually or as a combined procedure. Depending on whether you're having one or both surgeries, and whether you're having them done on both eyes, the procedure can take between 45 minutes and two hours. The surgery can be performed under either local or twilight anesthesia. Dr. Archibald will discuss all of these variables with you during your consultation.
Upper Eyelid Surgery Procedure
Upper eyelid surgery can address issues such as:
Drooping lids that make you look irritated or not alert
Lack of contour
Obscured upper eyelashes
Excess skin and fat
During upper eyelid surgery, Dr. Archibald will make an incision in the natural crease above your eye. The incision may extend slightly beyond the corner of your eye if there is excess skin in that region.
Then, Dr. Archibald will remove extra skin and fat through the incision, and reposition your muscles if necessary. Then, he'll close your incisions. Because your incision is in the natural crease above your eye, your scar will be discretely hidden.
Lower Eyelid Surgery Procedure
Lower eyelid surgery can treat problems including:
Bags under the eyes
Puffy eyelids
Excess skin and fat
During this procedure, Dr. Archibald will make an incision either directly below your lower eyelashes or on the inside of your eyelid. Then, he'll remove excess fat to eliminate the bags beneath your eyes and cut away sagging skin to create a better transition from your eyelid to your cheek.
Schedule Your Castle Rock Eyelid Surgery Consultation Today
Baggy, aged eyelids can make you look sluggish, weary, and agitated. The first impression this creates can harm you in social, romantic, and professional situations. In two hours or less, Dr. Archibald can help give you back a dynamic, energetic appearance that makes you stand out the moment you enter a room.
Dr. Archibald serves Castle Rock, Colorado Springs, Denver, and nearby areas of Colorado. Call (303) 268-2222 today to schedule a consultation.