Refine Your Body's Contours Without Surgery

-A non-surgical alternative to liposuction, CoolSculpting is exploding in popularity. This procedure gives you the cosmetic benefits of surgery without the recovery time that follows surgery. The Center for Plastic Surgery at Castle Rock is the exclusive provider of this cutting edge technology in Castle Rock and the only facility between Denver and Colorado Springs to offer it.
Muffin tops, love handles, and belly pooches are all considered stubborn fat areas, and here at the Center for Plastic Surgery at Castle Rock, we have experienced CoolSculpting surgeons who can help with ridding you of those unwanted pockets of fat. The CoolSculpting procedure is a non-invasive procedure that can give you all the cosmetic benefits of conventional surgery.
The Benefits of CoolSculpting
Patients who desire a slimmer body contour and who are looking for a quick turnaround without the hassle of surgery are great candidates for CoolSculpting.
CoolSculpting can treat:
Love handles
Muffin tops
Belly fat
Inner thighs
The bra area
This unique technology targets fat cells and only fat cells.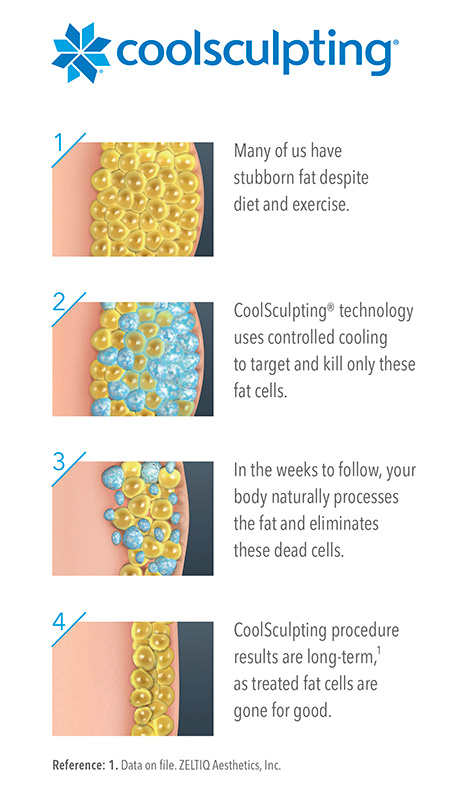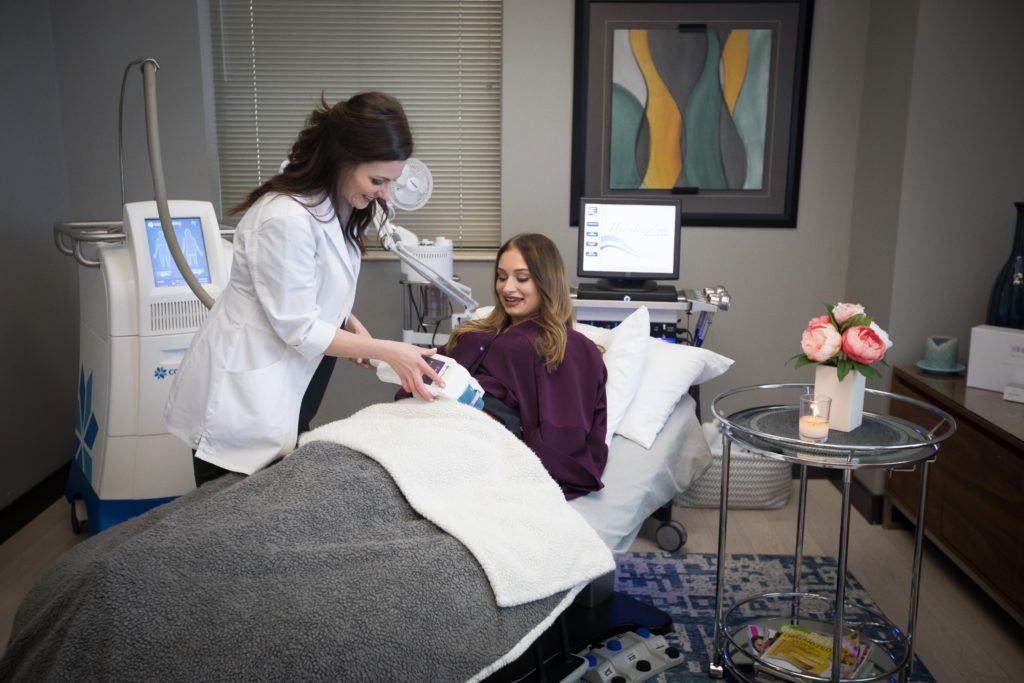 The CoolSculpting Procedure
In keeping with our patient-centered approach to care, all patients will meet with Kelly for a complimentary consultation prior to this procedure to ensure that all questions are adequately addressed. Kelly will then formulate a treatment plan. Because you are being evaluated at a plastic surgery office, you will also be informed if alternative therapies are more appropriate.
Developed by Harvard physicians, CoolSculpting is a patented procedure that uses a cooling process to kill fat cells deep within the dermis. Fat cells are sensitive to cold, and by utilizing a technique called cryolipolysis, the excess fat is cooled to the point of elimination without obvious and apparent skin damage. As the skin and fat are pulled into an applicator that sits between two chill plates, the fat cells die. After the cells break down, they are carried away and removed by the liver. This process can take up to three months.
During your initial consultation, a personalized treatment plan will be formulated for you. Depending upon your particular situation, a recommended treatment plan with the number of cycles required will be outlined. From then on, you may tailor the cycles according to your personal schedule. Each cycle will will take roughly one hour, so that will be your minimum time commitment. Cycles may be staged so that if you only have one hour available every few days, you may schedule your treatments accordingly.
It will take about two to four months to see your results after each cycle.
Begin with a CoolSculpting Consultation
Are you ready to find out what CoolSculpting can do for you? Give our office a call to schedule your personal CoolSculpting consultation at the Center for Plastic Surgery at Castle Rock.