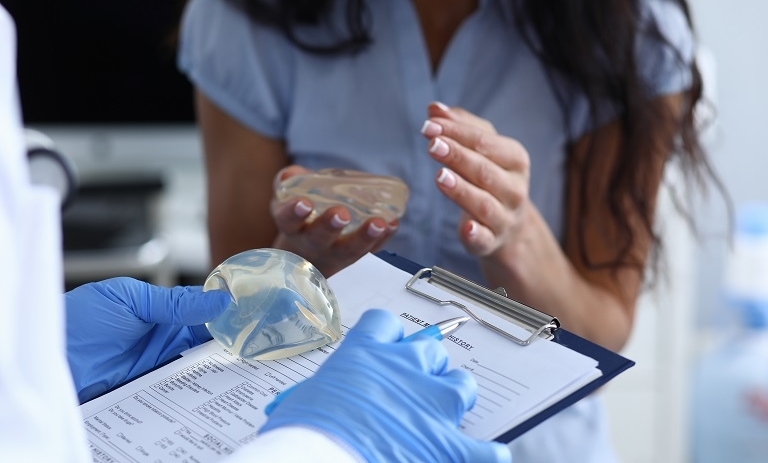 Breast implants can be filled with:
Saline, a naturally occurring sterile saltwater solution; or
Silicone, a synthetic rubber-like substance
Of these, silicone breast implants tend to look and feel more like natural breast tissue.
Breast implants can be rounded or teardrop-shaped. Rounded implants are free to rotate without impacting the appearance of the breasts. Teardrop breast implants mimic the natural anatomy of the breasts: heavier at the lower pole with a gradual tapering at the top, which may be more useful in producing a completely "natural" looking breast augmentation.
However, your personal results will depend on your anatomy and other factors unique to your breast augmentation procedure.
Saline vs. Silicone
Saline breast implants are filled after they have been placed. This allows both for a smaller incision and for minor adjustments to be made in implant size after placement.
Silicone implants require a larger incision and cannot be adjusted after placement.
On the other hand, silicone implants look and feel more natural, even when placed above the muscles of the chest, and are unlikely to ripple, wrinkle, bisect, or otherwise become aesthetically impacted.
Saline implants do not look or feel as natural and are more likely to develop aesthetic imperfections, including double-bubble, as they age.
Gummy Bear Breast Implants
Form stable breast implants, alternately known as "gummy bear implants," are designed to reproduce the look and feel of breast tissue and have quickly become a popular breast augmentation option. Form stable breast implants do not leak when ruptured and can maintain their size, shape, and natural feel for several years. This makes gummy bear breast implants an ideal choice for many of our patients.
There are benefits and drawbacks to all types of breast implants. During your initial consultation at our Castle Rock office, we will listen to your goals, assess your frame, and help you choose the best option for your needs.
Contact Us to Learn More
The best way to learn which breast implant will produce the results you desire – natural-looking or otherwise – is through a one-on-one consultation at Premier Plastic Surgery Center in Castle Rock, Colorado. Call us at (303) 268-2222 to schedule your consultation today.