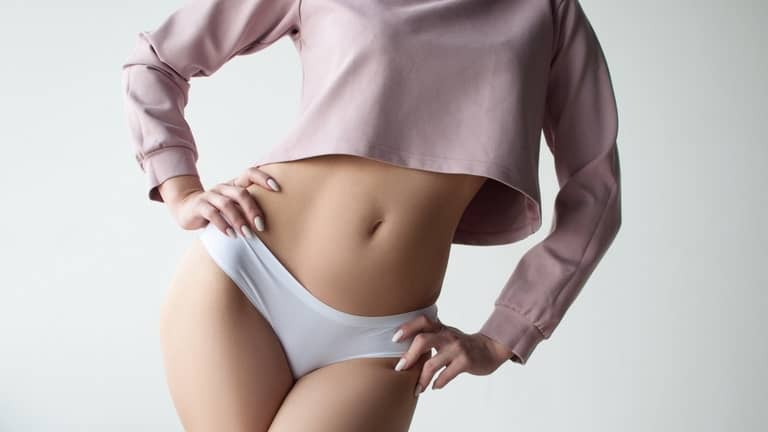 It can often be challenging to achieve a toned, flat stomach. If your rigorous ab workouts have reached a point of diminishing returns, you may want to consider a tummy tuck. During a tummy tuck, excess skin and fat are removed and loose abdominal muscles are tightened in order to deliver a more fit looking midsection.
Ideal tummy tuck candidates:
Are in good overall health
Have realistic expectations for the outcome of their procedure
May have loose, hanging skin and/or excess fat in the abdominal region
May have a loose, or stretched abdominal muscle layer
May have lost a significant amount of weight and can benefit from skin tightening in the abdominal region
Do not smoke or are willing to quit prior to surgery and throughout the recovery
Tummy Tuck and Pregnancy
Pregnancy results in a variety of changes to your body, and many of these changes impact your abdomen. It's common for the abdominal muscle layer to become stretched during pregnancy.  In addition, you may experience stretch marks or develop loose skin in the region. These issues can often make it difficult to regain the tight stomach you enjoyed prior to having children.
A tummy tuck is an effective way to address these issues, helping you restore your pre-pregnancy abdominal appearance. Our plastic surgeons recommend that you wait at least six months after giving birth and are finished breastfeeding before undergoing a tummy tuck. This will ensure your body has had sufficient time to heal after childbirth.
While future pregnancies won't rule you out as a tummy tuck candidate, they will result in the same changes to your body that you experienced with your last pregnancy. This can negatively impact your results. For this reason, it is generally best to wait until you're all done having children to undergo a tummy tuck.
Contact our Castle Rock Plastic Surgeons
Please contact the Center for Plastic Surgery at Castle Rock using the form on this page or call 303-268-2222 today to schedule your tummy tuck consultation. We serve patients in Castle Rock, Colorado Springs, Denver and the surrounding areas of Colorado.